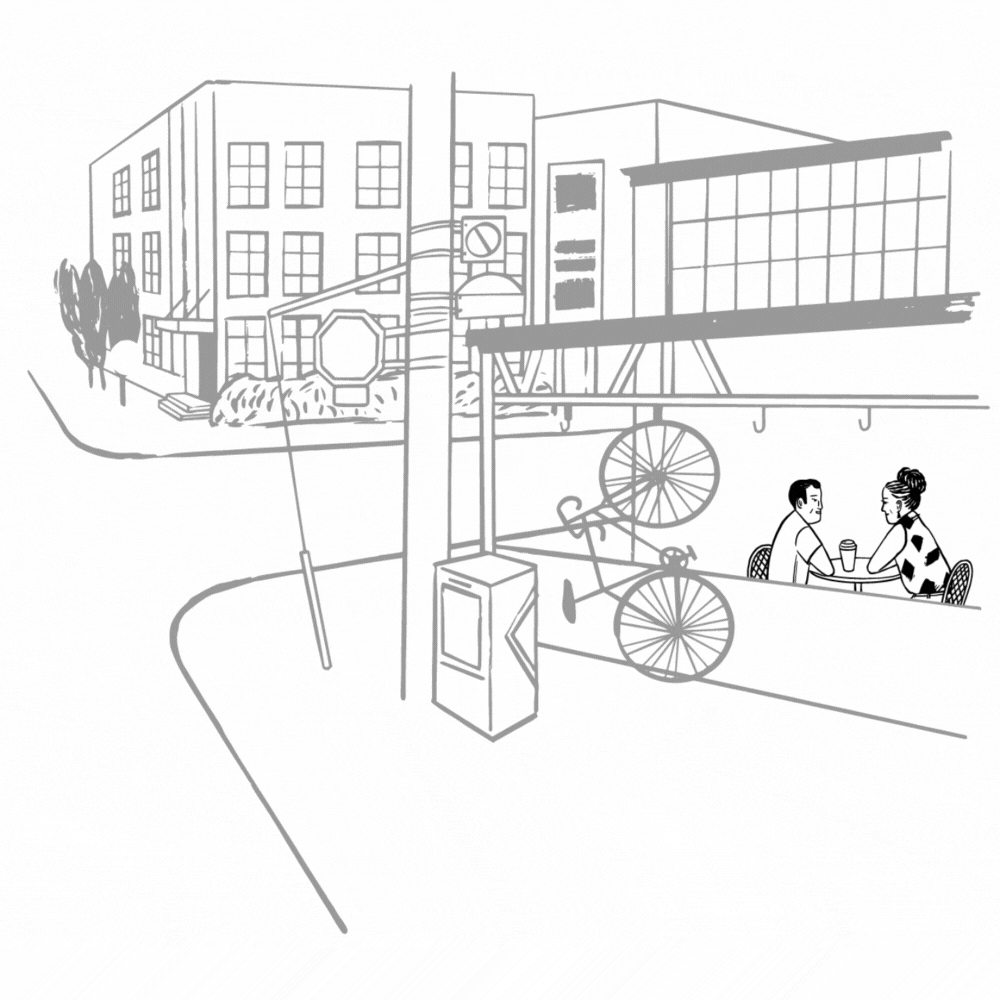 FCR's ED&I Mission
First Capital is committed to sustaining an equitable, diverse, and inclusive culture of belonging, where all employees have an equal opportunity to thrive, love what they do and grow their careers. By creating a safe and respectful work environment that embraces different perspectives and lived experiences, we strive to inspire everyone to become better at who we are and what we do.
First Capital continues to evolve and build an action framework to support a more diverse and inclusive workplace, believing that it is an essential and foundational core value that enables greater collaboration, innovation, and connection to each other for a more sustainable workplace and culture.
---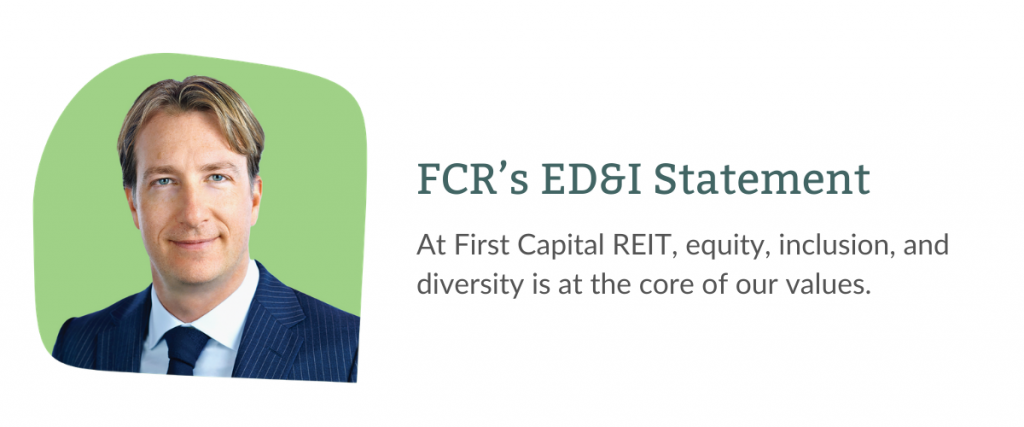 As a leader in the Canadian real estate industry, we have a responsibility to proactively address and eliminate acts of bigotry, discrimination, and prejudice to create a safe and trusted environment that will elevate outcomes, opportunities and experiences for our employees and the communities where we live and work. We couldn't feel more strongly that there is no place for racism or discrimination against any group, in any form, in our workplace or our broader communities. We acknowledge, support and desire that everyone at First Capital brings different lived experiences.
The formation and actions of our Equity, Diversity and Inclusion (or ED&I) Council will be the engine that drives these matters forward. Part of the ED&I Council's mandate is to create meaningful actions that fosters awareness and advocacy for all employees. Our employee-led Council has identified the following four key pillars:
Foundation: Strategically prioritize our ED&I initiatives and activities over a defined period to ensure progress and incorporating ED&I accountabilities and policies across the Company.
Education: Focus and align our EDI learning initiatives, leadership development, mentorship, and business practices to advance employee experiences across the organization.
Awareness: Foster a vibrant and inclusive culture that demonstrates and ensures equal opportunity, recognition, respect and the promotion of the well-being for all employees – where everyone feels – included based solely on their merit and skills.
Community Outreach: In our mission of creating thriving neighbourhoods, we will strive to contribute and engage our employees, tenants, vendors, and community stakeholders to influence the equity, diversity and inclusiveness of the neighbourhoods in which we operate.
The framework above is the foundation on which we will continue to build on our equity, diversity and inclusion initiatives in order to have the maximum impact for our organization
On behalf of the First Capital Board of Trustees and Executive Leadership Team, I'd like to sincerely thank our employees, tenants, community members and stakeholders in joining our commitment for a more equitable and inclusive Canada.
Adam Paul
President & Chief Executive Officer
April 2021
---
ED&I Council
Samantha Ross
Co-Chair
Carolynn Colvin
Co-Chair
Ben Jasper – Director, Leasing
Dimitra Papadopoulos – Director, Operations – Eastern
Erika Hannam – Property Manager
Ivan Ha – Senior Director, Asset Strategy
Jennifer Yu – People & Culture Generalist
Joshua Butcher – Senior Director, Development
Karen Gore – Director, Operations – GTA East
Karimi Mantri – Property Manager
Kim Cavers – Director, Construction
Lisa Takahashi – Senior Property Manager
Mahtab Pezhman – Project Manager
Marcel Parsons – VP, Asset Strategy
Matt Ashton – Director, Leasing
Meaghan Bach – Senior Business Analyst
Michele Walkau – SVP, Brand & Culture
Miranda Goetz – Senior Manager, AR
Mondy Azulphar – Talent Acquisition Manager
Noah Parker – Director, Marketing & Communications
Obiageli Nwaoshai – People & Culture Coordinator
Perry Naraine – Senior Manager, Property Technology
Sandeep Talwar – Senior Director, Marketing & Communications
Sophie DeWitte – Marketing & Communications Specialist