Working Together for a Greener Tomorrow

Since 2006, First Capital has committed to corporate sustainability through a variety of Environmental, Social, and Governance (ESG) initiatives. As leaders in the commercial real estate industry, we believe it is our responsibility to drive our sustainability efforts and are committed to doing our part.
Our ESG practices are integrated into every aspect of our business – from the design and construction of our properties, to how we support our employees' mental health and well-being, and the charitable giving we offer our communities. Although we are proud of our many ESG achievements to date, we recognize that there is still much work to be done.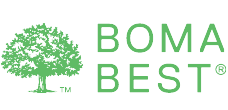 80% of our portfolio are BOMA BEST certified
The Building Owners and Managers Association Building Environment Standards (BOMA BEST) is Canada's largest environmental assessment and certification program in the commercial real estate industry. This sustainability program evaluates operators practices and their building performance, as well as tenants and property managers who make conscious efforts to engage in sustainable practices. The BOMA BEST certification recognizes quality and excellence in energy efficiency, low carbon footprints, and environmental management practices.

4.4M sf LEED certified
Created by the U.S. Green Building Council (USGBC), Leadership in Energy and Environmental Design (LEED) is an environmental certification program and rating system. Being the most widely used green building evaluation globally, it is granted to organizations who construct and maintain healthy, energy efficient, and green buildings. In 2006, FCR was an early adopter, committing to constructing all new buildings using LEED standards. Today, we are proud to have 120 projects that have been LEED certified, totaling 3.8 million sf of our portfolio.

7.1M sf achieved WELL Health-Safety Rating
Developed by the International WELL Building Institute (IWBI) and the Global Authority on Healthy Buildings in June 2020, the WELL Health-Safety Rating is an evidence-based, third-party verified rating that ensures proper health and safety protocols are being followed. These rated properties engage in strategic cleaning and sanitization procedures, air and water quality management, emergency preparedness programs, and health services – ensuring the safety of building owners and patrons. Achieving this rating is a significant milestone in our ongoing ESG commitment to make positive impacts in our neighbourhoods.
A bit about our Strategy:
Environmental
We are committed to reducing our carbon footprint in our neighbourhoods by engaging in sustainable initiatives across our portfolio. This includes implementing best operational practices, setting a target to achieve net-zero emissions by 2050, focusing on biodiversity where nature can thrive, emphasizing the importance of green spaces in our properties, and implementing eco-friendly transportation options.


Social
We are committed to helping our neighbourhoods thrive. This is carried out through FCR's Thriving Neighbourhoods Foundation – an employee-led charitable foundation focused on addressing food insecurity and poverty, social justice, mental health, and youth initiatives. At select properties, we promote the vibrancy of the centres through our public art program – providing a unique gathering place for visitors and shoppers. As an employer, we strive to create a workplace that is equitable, diverse, and inclusive, where staff can bring their whole selves to work, grow their careers, and thrive.
Governance
We are committed to thorough and responsible governance of corporate practices by embedding ESG initiatives within the entirety of our organization – from providing effective and transparent reporting systems, training our employees on important ESG initiatives, to assessing 100% of our properties for physical climate risk and resilience.

---
ESG in the Blog