Introducing 1071 King Street West: First Capital and Hullmark's new mixed-use development featuring an iconic flatiron design, a neighbourhood park, a convenient new extension of the West Toronto Railpath, and more! The completed building will span 14 storeys, comprised of 227 purpose-built rental residential units, an abundance of amenities, and approximately 6,000 square feet of new retail space fronting along the busy King Street West corridor. This stylish development is designed to pay homage to Liberty Village's industrial history, while incorporating modern architectural elements that are sustainably focused. We're proud to be a part of the neighbourhood's ongoing growth and revitalization, with 1071 King Street West creating a new gateway into Liberty Village.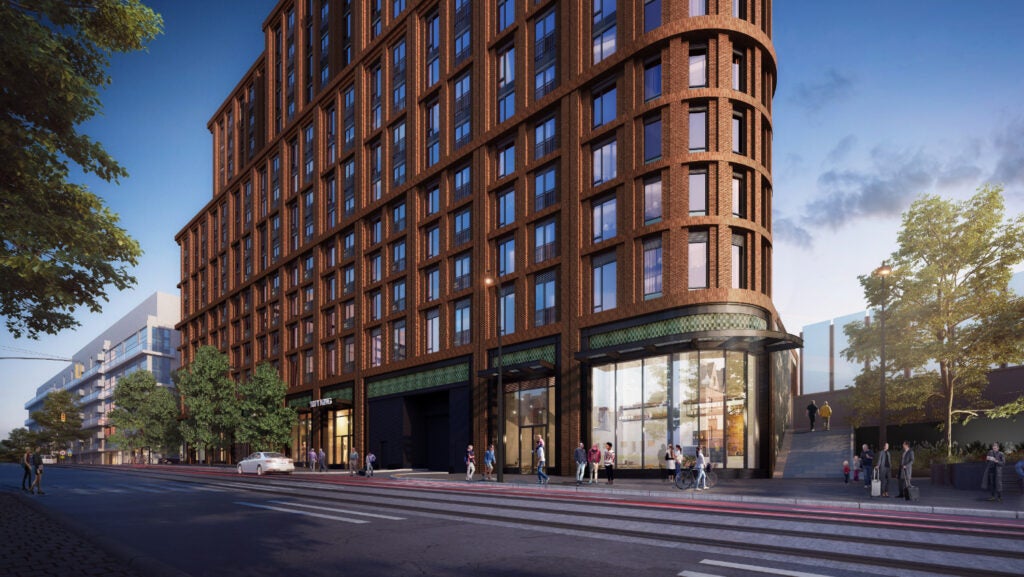 Our Partnership with Hullmark
When we first purchased the property, our initial interest was sparked by its strategic location in the middle of our larger Liberty Village portfolio and its proximity to our head office. In addition to being one of the last remaining development sites along this dense corridor, the site has terrific transit adjacency, vehicular access, and great proximity to neighbourhood amenities.
In 2018, we partnered with Hullmark, a private real estate investment and development firm specializing in mixed-use developments in downtown Toronto. 1071 King Street West marked our first strategic partnership with Hullmark, having recently finalized our second joint venture partnership with the acquisition of 102 Atlantic Avenue in Liberty Village. Hullmark also owns and manages several properties in the Liberty Village neighbourhood, so our aligned vision for the area makes for a successful partnership.
Hullmark is excited to partner with First Capital on this new flatiron project! We look forward to bringing new residential and retail opportunities to the Liberty Village neighbourhood, and look forward to seeing this project come to fruition.

– Charles Arbez, Director, Development at Hullmark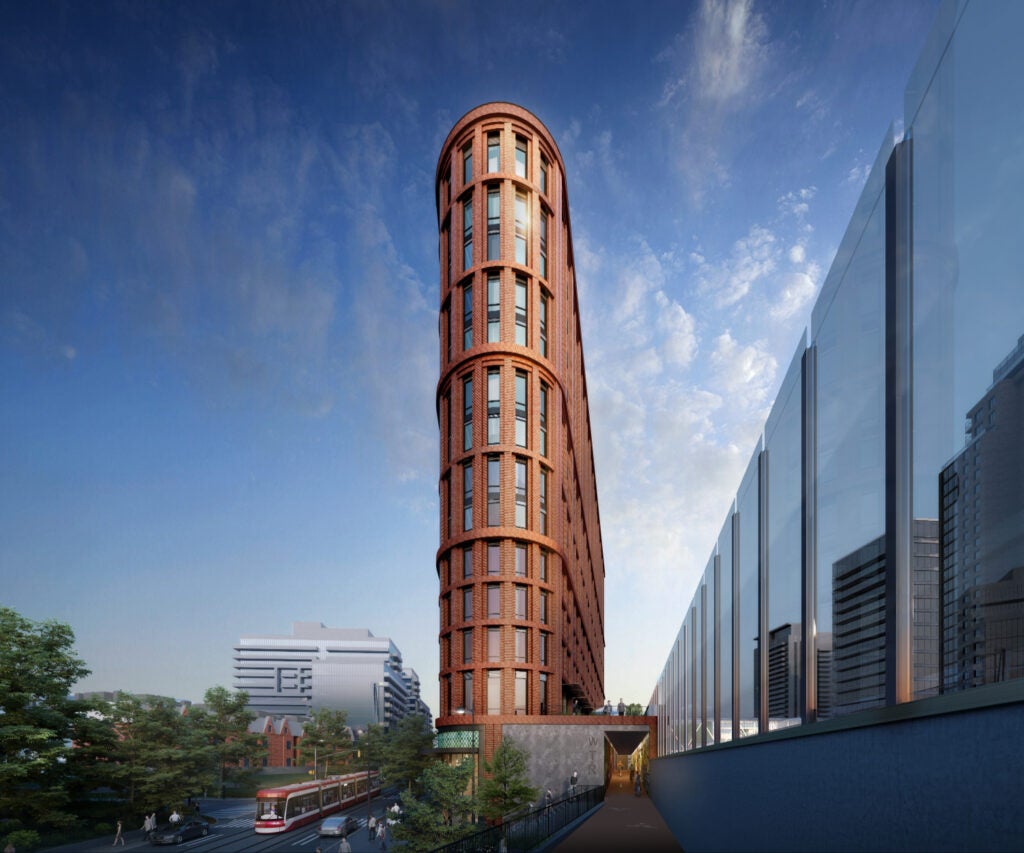 Iconic Design Features
In designing the building, we were inspired by the property's unique triangular shape bounded by King Street West to the north and the Metrolinx GO Train corridor to the south. Together with the design architect BDP Quadrangle, we decided to take advantage of the site's shape and develop a new iconic landmark for Liberty Village.
Did you know there's only a handful of flatiron-shaped buildings in Toronto? 1071 King Street West will be the first of its kind in Liberty Village.
Paying homage to the rich industrial history of Liberty Village, this stylish building will feature a red brick facade and punched windows – respecting the neighbourhood's heritage character. Not only does the building's façade pay tribute to the area's brick and beam warehouse-style buildings, but it also helps to mitigate heat loss, reducing the building's total energy consumption and ecological footprint. Additionally, this project will incorporate a geothermal system that will provide sustainable heating and cooling for the entire building. First Capital is committed to incorporating ESG principles in all of our projects as outlined in our 2020-2024 ESG Roadmap.
Did you know geothermal systems harness the earth's natural underground temperatures and results in net zero emissions?
In addition to its historical design and ESG focus, 1071 King Street West will also feature key public realm amenities including a new public park and community gathering spot. It will also tie into a planned extension of the West Toronto Railpath that will better connect the neighbourhood and increase its accessibility to the city's west end. The planned Railpath extension will conveniently link Liberty Village to the new SmartTrack GO station planned near First Capital's King High Line project to the west. Ultimately, the project will take advantage of this unique public amenity and connectivity opportunity, attracting more residents to the neighbourhood.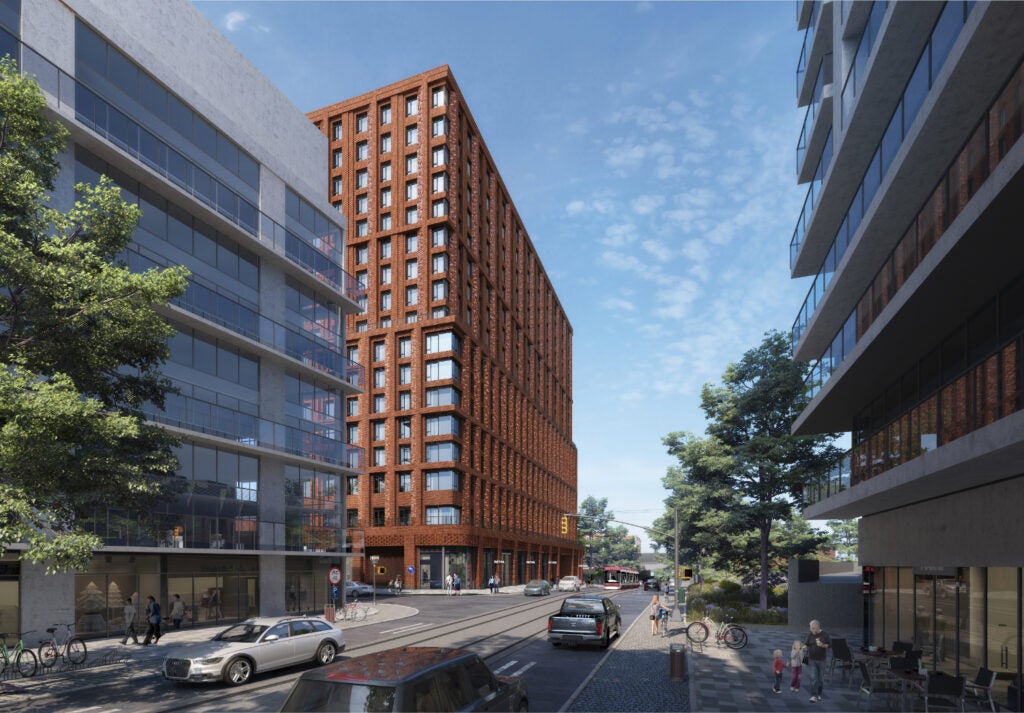 Aiding Toronto's Housing Supply Shortage and Rejuvenating Liberty Village
This iconic flatiron landmark will work to better serve the neighbourhood through its integrated city mobility, new retail space for everyday shopping, and the introduction of purpose-built rental housing amidst Toronto's ongoing housing supply shortage.
1071 King Street West is part of our significant Liberty Village portfolio which includes over 500,000 sf of retail and commercial GLA, along with over 500 existing rental residential units. To complement and enhance our portfolio, we identified a further need for well-designed, amenity-rich residential rental space in Liberty Village. 1071 King will differentiate itself given its unique design, public realm, and convenient location.

– Jennifer Arezes, Vice President, Development, First Capital
This project aligns with our super urban strategy of creating vibrant mixed-use neighbourhoods that meet the needs of everyday urban life – bringing together people, public spaces, retail shopping and services, public art, and access to public transportation. Our 1071 King Street West flatiron development is our next pursuit in doing so as we continue our contribution in helping Liberty Village thrive. We couldn't be more excited for the future of this neighbourhood and are proud to be a part of its ongoing growth.
Currently, we expect to begin construction by the end of 2022 and anticipate the completion of this project by 2025.
More updates to come!
A special thank you to the following Project Team: