This fall Teatro Verde, Yorkville Village's first-class florist, gift, and décor shop, celebrated their 25 year anniversary. Hitting this momentous milestone comes as no surprise as their world-renowned floral creations and show stopping retail store have attracted many loyal customers. From A-list celebrities, international aristocrats, to Toronto's finest hotels, their extraordinary pieces have left their clients wanting more for over a quarter century.
Taking inspiration from their travels and being immersed in various cultures around the world, their innovative and trend-setting approach to their practice has kept them ten steps ahead in the floral industry. Whether you're looking for a romantic arrangement for a loved one, need an elite florist to beautify your wedding, are searching for one-of-a-kind gifts and home decor, or just want to enjoy a unique shopping experience, this is the place to go – you'll leave the store with nothing but the best. Breath-taking designs, sophisticated style, and premier quality is engrained in all things Teatro Verde.
Meet co-owners Shawn Gibson and his partner Michael Pellegrino, the two who grew Teatro Verde into what it is today: a world-leading floral, décor, and gift shop. First Capital would like to congratulate them on reaching this tremendous milestone and for opening their brand-new retail store in Yorkville Village this fall.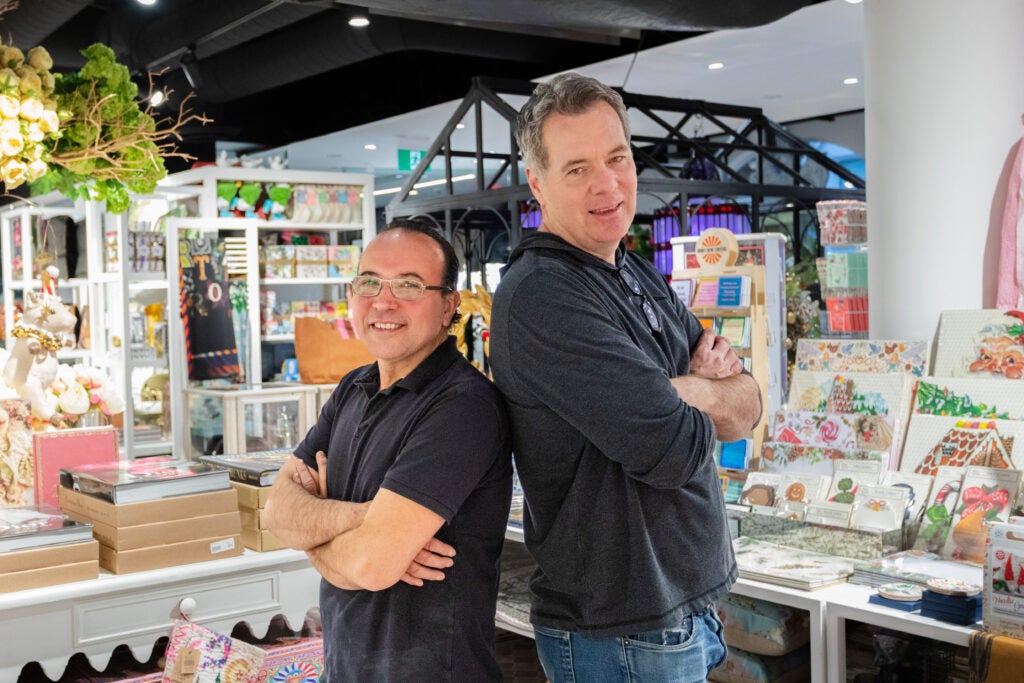 Going Back to Their Roots
Rewind 25+ years back, Shawn and Michael had come from very different backgrounds. Michael was born in Italy, where he worked for several years as a professional landscaper. Plants, flowers, and creating glorious gardens were his specialty. Shawn grew up in Canada in a farming community, but the theatre is where he found his passion. He moved to New York City and attended Parsons School of Design studying décor and set design. Upon graduating, he worked on the sets of several famous Broadway plays such as CATS, Les Misérables, Miss Saigon, and more. With this job came lots of travel so Shawn was able to immerse himself in various cultures around the world. Little did he know that these experiences would prove to be part of his key to success with Teatro Verde later in life.
Leaving both their professions behind and relocating back to Canada, the two began working in interior design and décor at Yorkdale Mall for special holidays, events, and activations. Impressed by their work, the mall's management team took them over to Yorkville Village (then known as Hazelton Lanes) to work on similar projects.
Not long after this transition, a change in mall ownership was taking place and a rare opportunity presented itself. Michael and Shawn were approached to take over a local flower shop located inside the mall. Though they were hesitant at first, Shawn was confident in Michael's natural green thumb and abundant knowledge of flowers and plants from his landscaping days. Engaging his own talents, he knew his set design and décor background would allow him to build the most eye-catching retail experience.
Taking inspiration from both of their backgrounds of theatre and landscape, Shawn had asked Michael and his sister what "Green Theatre" meant in Italian the night before signing the lease to what was about to bring them 25 years of success. "Teatro Verde", the direct Italian translation, combines their past to make their future.
Upon opening, Michael and Shawn saw immediate success and a positive response from the Yorkville neighbourhood and beyond. This was the start of a very bright floral future.
Elegant Arrangements & Fabulous Flowers
What differentiates them from other florists you ask? It's clean, it's chic, it's pure, and it's showy. If you want the best, this is where you go. If you want a reaction, that's what you're going to get.
Michael, Teatro Verde's head florist, is always focused on finding the best quality flowers for his valued customers. He believes spending more time sourcing the best products available allows for the flowers to stand out and speak for themselves. The more an arrangement needs manipulating and prodding, the less attractive it becomes.
Doing Flowers is like cooking Italian food, it's the best ingredients with very little manipulation… it's very pure in its natural form so you don't want to do a lot of process on it

Michael Pellegrino, Co-Owner of Teatrhttps://teatroverde.com/o Verde
Michael takes pride in his craft. In fact, he spends 6-7 hours preparing his arrangements before opening every single day. Most florists subscribe to a finer flower service and lose control of their quality. This is not the case at Teatro Verde as Michael carefully sources his flowers from over 475 local and international suppliers. Their flowers are flown in from places like South America, Europe, and Israel, and hand-picked by Michael at local Ontario markets seasonally.
It is no wonder why Teatro Verde is the first-choice florist for Toronto's elite. In fact, they provide weekly arrangements to the city's most luxurious hotels including the Four Seasons, The Hazelton, Park Hyatt, and Shangri-La, and continuously send to the homes and residences of the city's wealthiest patrons. It doesn't stop there: Teatro Verde is a household name among celebrities and has serviced the likes of Lady Gaga, Sylvester Stallone, Madonna, Paris Hilton, Ellen DeGeneres, Martha Stewart, and more.
Retail Shopping Experience
While Teatro Verde is known for their bold floral creations, they also specialize in one-of-a-kind gifts and home décor. Shawn's extensive background in set design, worldly travels, and décor expertise, have given him the tools to turn their retail store into a shopping experience. From top to bottom, the shop is filled with rare finds that you wouldn't see in a regular gift shop. From unique candles such as Trudon or Baccarat from Paris, Lavatoro from Sicily, Dr. Vranjes from Florence, to rarities from Asia, the store brings worldliness and diverse cultures to Toronto.
Shawn is constantly staying in touch with what's going on in the world and what's available so he can try and bring the best to Toronto. By doing so, he fills a niche that isn't there and believes that the key to a successful small business in this environment (especially post-pandemic) is just that.
Teatro Verde is an ever-evolving changing landscape like the world is. From season to season, year to year, we're always keeping a pulse on pop culture, lifestyles, politics, and more

Shawn Gibson, Co-Owner of Teatro Verde
Shawn's approach to retail is that you can't wait around for people to come to your store, instead you have to find ways to attract people in. Once you're in, the goal is to desensitize you from all your problems in life and take you on a journey. Then they have what's called "milk" at the back of the store (similar to convenience stores) which forces you to shop the entirety of the store so you don't miss a section.
I used to work for Ed Mirvish who taught me so many retail tricks without even realizing it. He used to say that when designing full-page ads for his plays, 'if you put one thing in the corner and you don't like it then I've lost you but if I put 50 things in that corner, I'm bound to get you on one of those things

Shawn Gibson, Co-Owner of Teatro Verde
Yorkville Neighbourhood
Teatro Verde has been a neighbourhood institution for over a quarter decade. Since Yorkville is a very well-established neighbourhood, Michael and Shawn know all their clients and have built very loyal relationships over the years. Not only have they captivated their audience and continue to deliver world-class products and service, but they listen to their customers. They understand their needs, wants, and are always looking for ways to go above and beyond.
Having moved locations a few times throughout Yorkville Village, they are thrilled with their new, larger location and know that this concept is only possible because of the community and its patrons.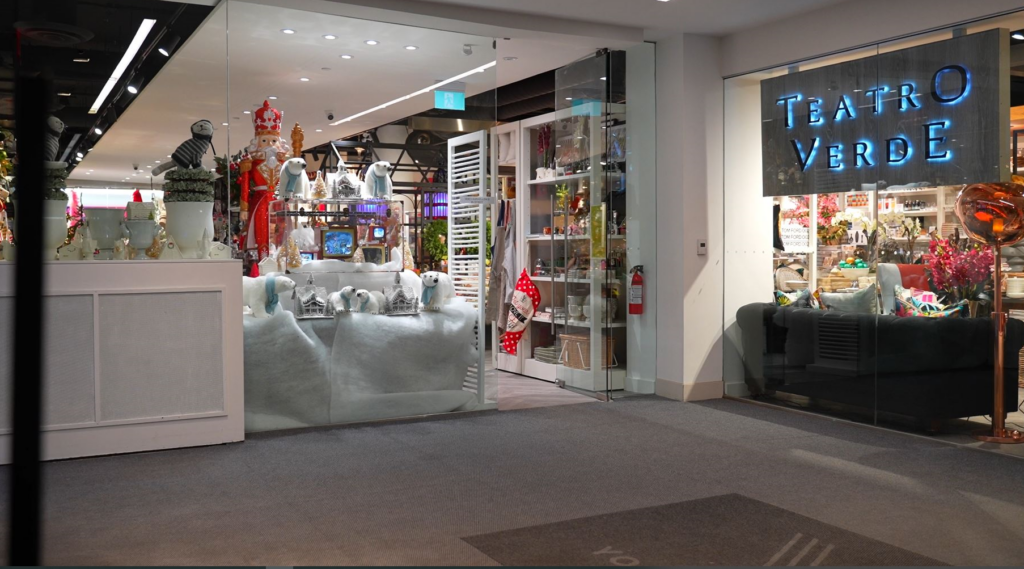 First Capital congratulates Teatro Verde on hitting this tremendous 25-year milestone! Their success over the past quarter decade speaks to their unrelenting ability to deliver first-class floral arrangements, unique gift items and premier service. We're fortunate to have them in Yorkville Village.
Be sure to check out their features in Dolce Magazine here, House & Home features here and here, Toronto Star articles here and here, Bloor-Yorkville BIA mention here, and so much more!
For more information on Teatro Verde, see their website here and don't forget to give them a follow on Instagram here.
Head to Yorkville Village today and experience their exquisite flowers, gifts, and décor!