Since the start of the pandemic, the Canadian Real Estate industry has gone through significant changes due to government lockdowns and imposed restrictions on tenant operations. As retail and leasing initiatives have had to innovate and shift their focus, we're adapting to these changes by finding creative ways to utilize our vacant spaces. Some of these include opening COVID-19 pop-up vaccine clinics, temporary ghost kitchens, adding food trucks to development sites, and a renewed focus on short term leases and pop-up concepts to our properties.
COVID-19 Pop-Up Vaccine Clinics
Earlier this year, First Capital, alongside our peers in REALPAC, pledged to provide space to provincial and municipal health agencies to assist in the largest inoculation campaign in Canada's history.
Throughout August and September, Cedarbrae Mall and Parkway Mall partnered with the Scarborough Health Network and opened pop-up vaccine clinics to help administer COVID-19 vaccines to members of the community. The clinics saw great success and were able to administer over 1,000 vaccines to community members. The turnout at both malls was so significant that Scarborough's Morningside Crossing welcomed an additional one-day-only mobile clinic that vaccinated over 50 people in a single day.
Both Scarborough malls will be continuing these pop-up clinics through the fall, with Cedarbae's closing at the end of November, and Parkway's ending in late December. In addition, Morningside Crossing will be hosting a mobile vaccine clinic in November.
In doing our part, we were able to utilize the available spaces in these centres for public health units in order to support our neighbourhoods and help them thrive!
Book your vaccine at Cedarbrae Mall or Parkway Mall here.
Temporary Ghost Kitchens and Food Trucks
Another creative way in which we've utilized our available spaces is through temporary and short-term leases with ghost kitchens and food trucks.
Unfamiliar with ghost kitchens? That's because they're usually meant to be private and unseen by the public. The burgeoning concept is a food service and meal preparation centre that exists for the sole purpose of providing takeout food in a market currently under served. They generally have no waiters, dining rooms, front counters, nor public-facing signage. Chances are that the Wendy's burger you most recently enjoyed from Uber Eats was prepared in a nearby Wendy's ghost kitchen.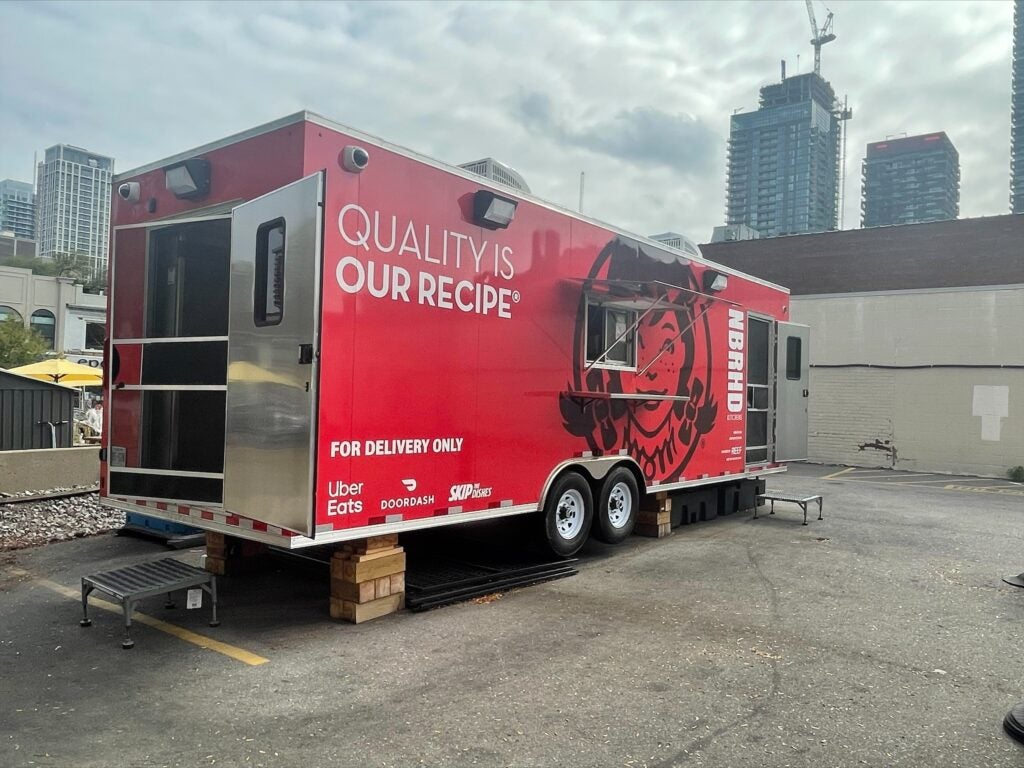 Amid the pandemic, online ordering and food delivery apps skyrocketed in popularity. To keep up with the growth, quick service restaurants (QSRs) and small restauranteurs alike turned to ghost kitchens. Their popularity has grown so large and widespread during the pandemic that they have seen five-year's growth occur within just three months. The industry is now projected to be worth over $1 trillion by 2030 as suggested by Euromonitor.
As restaurants were forced to pivot from the loss of indoor dining, ghost kitchens provided a needed stream of business for many brick-and-mortar restaurants. It allowed them to prepare food for other brands, avoid employee layoffs, and lower costs. In some instances, it offers food and beverage entrepreneurs the ability to test new flavours and concepts without the capital requirements of opening a new restaurant.
Throughout the pandemic, we've worked with our Development team to find locations in our development pipeline that can support interim uses like Food Trucks and Ghost Kitchens. We've worked with community partners to create vibrant spaces that serve as gathering places, a prime example being our Yonge and Roselawn site. A visitor to the corner of Yonge and Roselawn today will find Home Appliance Food Co. adjacent to "In n Out", our mural recently completed by a talented trio of young of local artists.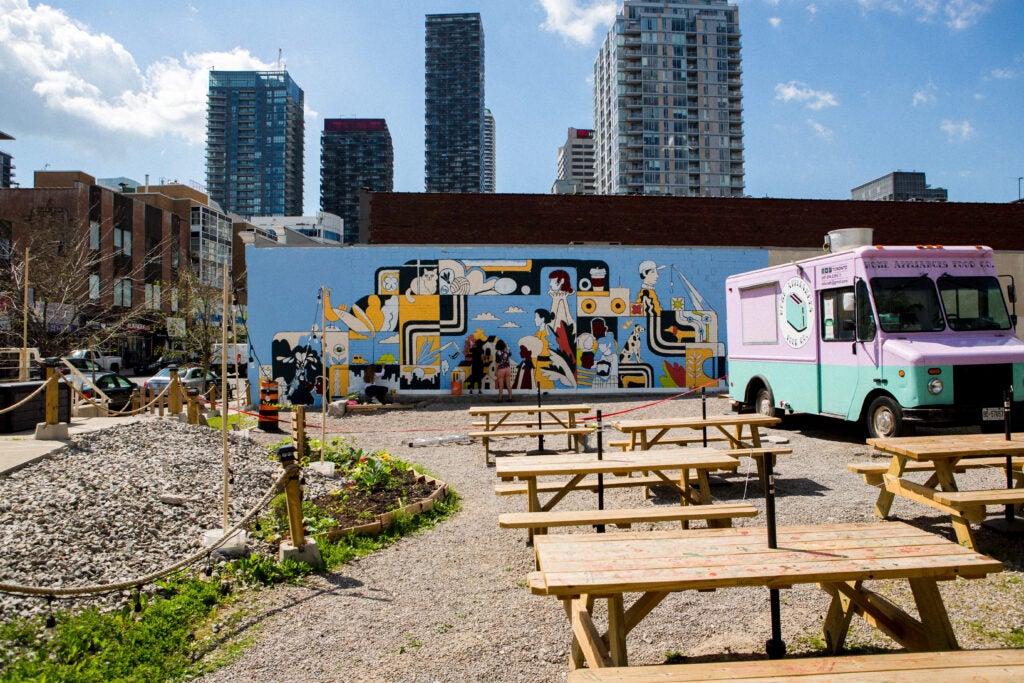 Pop-Ups in Yorkville
Yorkville is one of our most vibrant and sophisticated neighbourhoods, filled with endless opportunity for patrons, retailers, and businesses alike. Throughout the pandemic, it has welcomed pop-ups that were able to thrive in Yorkville's unique environment. Some of our most popular creative uses of space have been pop-up art exhibits including Transformative Chic – The Everlasting Cheongsam, CRUSH in support of pride 2021, WABANKI 2021, Anthony Ricciardi, and Rundi Phelan.
During the 2020 holiday season, BRIKA Virtual Holiday Market temporarily occupied one of our available spaces, selling gifts from over 25 small and local businesses. Its COVID-friendly platform offered customers virtual shopping appointments, delivery of goods, and contactless pick-up.
Promise Supply, a local plant shop, opened a pop-up in one of Yorkville Village's public shopping spaces. Immediately loved by neighbourhood members and frequent mall patrons, they recently moved into a larger unit and have beautifully revitalized the space. Similarly, STK, one of Toronto's most exclusive steak houses, opened a pop-up patio concept along the mall's laneway to increase outdoor dining seating amid indoor restrictions.
The pandemic has impacted the growth of many small businesses, making the opening of brick-and-mortar stores an even tougher endeavour in these precarious times. We hope these new pop-ups opening around Yorkville, and at our other properties, will serve as a gateway for smaller budding businesses to grow, and potentially open a full store in the future.
Head to Yorkville Village to check out all of our pop-ups today!
Our Objective
In adapting to this new normal, it has become increasingly necessary to creatively fill available spaces to new concepts including COVID-19 vaccine clinics, temporary ghost kitchens, food trucks, pop-up concepts, and others that we may not have in the past. We're optimistic that these activations and creative uses of space have helped our tenants and neighbourhood members thrive amid these particularly trying times. As one of the largest owners and operators in the Canadian real estate industry, our main focus is, and has always been, to support our tenants and patrons. We're always looking for new concepts, tenancies, and ideas to meet the evolving needs of the communities we serve, and we'll continue to do so as we approach our return to the new normal.
Keep an eye out for more of our creative uses of space, and neighbourhood updates on our Instagram and Facebook.